PARISH PRIEST
Very Rev Canon Edmond Gubbins took over as Parish Priest of the Scarborough Parishes on 15 October 2016. He resides at St Peter's Church. Contact him on 01723 360358 or email him at the parish email address.
DEACON PAUL GRIFFIN
Paul Griffin was ordained to the permanent diaconate on 3 July 2021. He is the first permanent deacon in Scarborough. He can be contacted via St Peter's Rectory on 01723 360358.
POLISH CATHOLIC MISSION
The Polish community here in Scarborough is served by Polish priest, Fr Mariusz Gutowski. The Polish Mission does not form part of the Scarborough Parishes. It is a separate entity based in Hull and also serving Scarborough and York. Masses are held at St Peter's Church every Sunday at 9.30am. Click HERE to visit the website of the Polish Mission, or phone 01482 341472.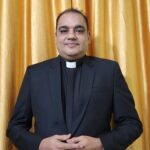 SYRO-MALABAR MASS
The Indian community in Scarborough is served by Fr Abison Joseph (Paul Olikkal), Tel: 07459 275486. Fr Joseph is based at 60 Cockerton Green, Darlington. The Syro-Malabar Mass is celebrated on 4th Sunday monthly at 4pm at St Edward's Church (preceded by children's Catechism at 3pm).